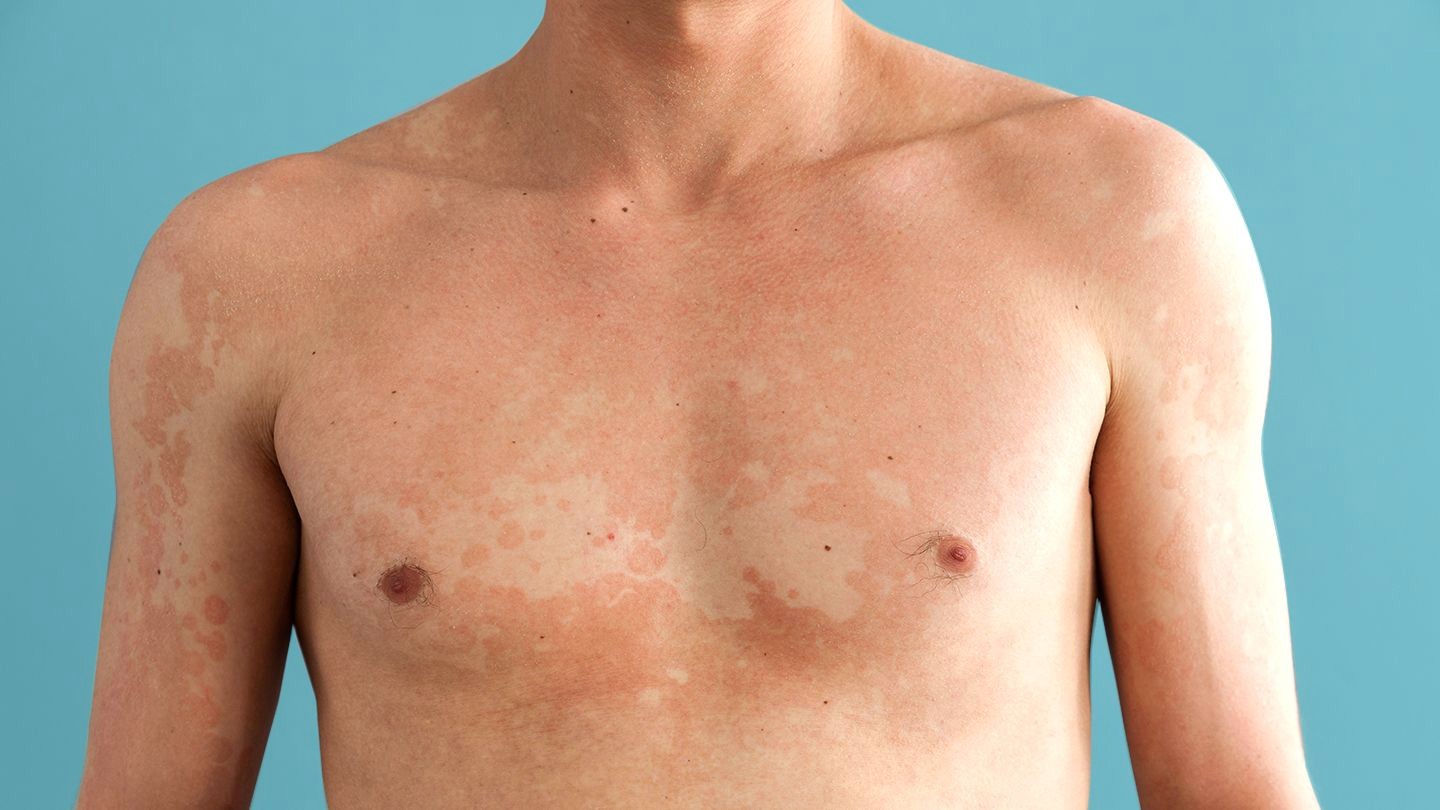 What Is Tinea Versicolor?
Tinea versicolor is a fungal infection that causes tiny patches of discoloured spots on the skin. It's also known as pityriasis versicolor. It's caused by a kind of yeast that naturally lives on the skin. When the yeast grows beyond control, the skin disease, which appears as a rash, is the consequence.
Signs and Symptoms of Tinea Versicolor
Acidic bleach from the growing yeast causes areas of skin to be a different colour than the skin around them. They can be small spots or patches. The symptoms and signs of infection are:
Patches that appear red, pink, white or brown and may be darker or lighter than the skin around them.
Spots that don't tan the way the rest of your skin does.
Spots that pop up more boldly when you do tan.
Spots that can occur anywhere on your body but are commonly noticed on your chest, neck, back, and arms.
The spots may disappear during cold weather, but they can get worse during warm and humid weather.
Similar conditions
Some skin conditions have symptoms that look like tinea versicolor. These include:
Vitiligo: It is a condition that makes you lose your skin colour
Pityriasis rosea: It is a rash that can cause tiny spots that spread across your body in the shape of a tree
These conditions have features that clue your doctor into what you have, like the texture and rash pattern.
Tinea Versicolor Causes
The yeast responsible for tinea versicoloror, Malassezia, develops on normal healthy skin. However, these factors can cause an overgrowth that causes the infection:
Oily skin
Living in a hot climate
Sweating a lot
Hormonal changes
A weak immune system
Since the yeast naturally grows on your skin, tinea versicolor isn't transmissible. It can affect people of any skin colour. It is typically seen in teenagers as well as young people. For some people, it may cause emotional distress and feelings of self-consciousness.
Tinea Versicolor Treatment
How do dermatologists diagnose tinea versicolor?
A doctor can diagnose tinea versicolor based on how the rash looks like.
If they need more details, the following tests can help:
Wood lamp (black light) examination: The doctor uses ultraviolet light, which may make the affected areas appear as a fluorescent coppery orange colour if it is the result of tinea versicolor.
Microscopy using potassium hydroxide (KOH): The doctor will remove the cells from your skin, soak them in potassium hydroxide, and then analyse them under a microscope.
Skin biopsy: The doctor will take an adipose tissue sample by scraping a small amount of skin and scales from the affected area for examination under a microscope. In the case of children, the doctor may remove skin cells by first firmly attaching transparent tape over the affected area before removing it. The sample can then be put directly onto a slide for examination with a microscope.
How do dermatologists treat tinea versicolor?
The treatment a dermatologist prescribes is based on a variety of factors. These include where the tinea versicolor appears on your body, how much of your skin is affected by tinea versicolor, how thick the spots have grown and the climate.
Treatment for tinea versicolor may include the following:
Medicine applied to the skin: This is the most frequently used treatment. There are anti-fungal soaps, shampoos, creams, and lotions that can keep the yeast in control. They contain active ingredients such as selenium sulphide, ketoconazole or pyrithione zinc.
Medicated cleansers: Tinea versicolor often returns, particularly if a person lives in a humid and warm place. Using a medicated cleanser at least once or twice a month, especially during hot and humid times, will stop the yeast from growing again.
Anti-fungal medications: A dermatologist may prescribe these medications if tinea versicolor covers a significant area of the body, is thick or often reoccurs after it is treated. These medications are used for a limited time. During this period, your dermatologist will monitor you.
Antifungal Soaps: There are several options available in the Indian market, but Ketoconazole-based soaps are considered the best antifungal soap in India for treating Tinea Versicolor.
Outcome
With treatment, the yeast is easy to kill. But, the skin can stay lighter (or darker) for a few weeks or even months. However, the skin will eventually return to its normal colour. To even out your skin's tone, protect your skin from the sun and not tan.
Tinea versicolor can return. When the outdoor air is humid and hot, it is possible for the yeast to increase in size and become out of control. Some people who live in a tropical climate may need to apply a medicated cleanser year-round to prevent the yeast from over-growing. People who live in an area that becomes moist and warm each spring may see tinea versicolor come back every year.
Lifestyle Tips for Managing Tinea Versicolor
Episodes are very common since the yeast that causes the infection is a normal fungus that lives on your skin. You might use the medicated cleanser once a week for about 10 minutes for a few months to help prevent tinea versicolor from returning. It is possible to use these products if the infection keeps returning, especially for those who live in a humid and warm area.
If the condition is mild, it is possible to treat it yourself. There are anti-fungal products that you can purchase without a prescription. They include:
Shampoo that contains selenium sulphide
Anti-fungal cream or ointment that contains miconazole, clotrimazole or terbinafine.
When using these products, dermatologists suggest the following:
Wash and dry the affected skin
Apply a thin layer of the anti-fungal cream or ointment. Apply it at least once or twice a day for at least two weeks.
If you are using a shampoo, leave it on your scalp for 5 to 10 minutes before cleaning it off.
If you have oily skin, it's best to use a dermatologist-recommended soap for oily skin to help manage the condition.
Some people require stronger medication which is why they consult a dermatologist. If you choose to treat yourself or consult a dermatologist, these guidelines will help you achieve better outcomes:
Avoid using skin care products that are oily. Make sure you use oil-free products. The label may also read "non-comedogenic."
Wear loose clothes. Nothing should feel tight.
Make sure your skin is protected from the sun. A tan makes tinea versicolor easier to spot.
Avoid using a tanning bed or sun lamp. Again, a tan makes tinea versicolor more visible.
How can you protect your skin from the sun
To achieve the most effective results, it is essential to protect your skin from the sun. For this, apply sunscreen daily. Make sure that you apply sunscreen for at least 20 minutes before leaving. And apply it to all skin that will not be covered by clothes. Make sure you use a sunscreen that provides:
UVA and UVB protection (label may read broad-spectrum)
Sun Protection Factor (SPF) of 30 or more
Non-greasy formula (label may say "oil-free" or "non-comedogenic")